OUR PROGRAM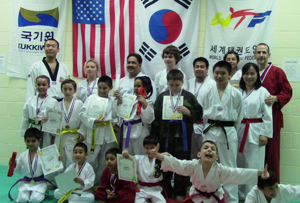 I would like to invite you and your family to participate in an activity that builds confidence, strength and discipline. Have you ever considered the martial arts?
I received my Taekwondo Master Certification at the Taekwondo Headquarters, Kukkiwon, Korea in 1992 and have 30 years' experience teaching ages 4 and up, both women and men, in the traditional martial art of Korea and in Olympic-Style coaching.
Taekwondo is the most popular form of martial art in the world and in 1988, I helped introduce it as Olympic sport as a member of the South Korean Taekwondo Demonstration team.
Taekwondo is not about the fight, it's about building confidence, strong communities, teaching respect for yourself and others, but above all, as you progress through your belts, you will find it is the pursuit of mental and physical perfection.
I encourage you to join us, you will not regret the experience.
Kids
Our Kids program is specifically tailored for the needs of the young ones. Young children experience life more holistically, learning from the entire experience, not just the individual subjects we teach. The program is designed to expose these young children to positive social interaction and help them develop control, balance, self-discipline, attention span and coordination. The Taekwondo techniques are kept simple, and the class utilizes fun activities to help build the new skills.
Families
Sharing This Hobby Will Bring Your Family Together We encourage the whole family to participate. USA Taekwondo Academy in Bremerton offers something for everyone, children, parents and even grandparents. Because our programs are designed for beginners of all different ages and physical fitness levels anyone can do it. Each family member will advance at their own pace and comfort level. Participating as a family will present opportunities to bond with your child far beyond just learning a centuries old martial arts. Children many times take on valuable leadership roles in helping a parent learn. Over time your child will see that even adults have challenges and successes. With your example of patience and persistence the whole family will experience the satisfaction of achieving different colored belts. Your child will respect you for your hard work, just as you will admire them for their accomplishments. No matter how old your child is, sharing your hobby at USA Taekwondo Academy in Bremerton will bring family together.
Teens
You don't have to be in shape and no prior experience is necessary. Values such as hard work in school and being supportive and honest are rewarded. Students develop friends in their peer group with similar values on team work and honoring individual strengths. In their first class, teens will learn conflict and resolution skills that are applicable in their everyday lives. The class curriculum teaches safety precautions and effective, easy-to-learn self-defense skills so they feel confident right away. The balance and agility developed through the rigorous workout, and confidence-building curriculum, will increase their success in other sports too.
Why do Men and Women Choose Martial Arts?
1. Tae Kwon Do helps you lose weight:
You can expect major changes in your body with our classes. You'll burn lots of calories, build muscle, and in general, get your metabolism kicking into high gear. Our work-outs are a great way to help you shed those unwanted pounds. Additionally, you'll reshape your body. Your arms, legs, and waistline are going to become more toned. stick with it long enough and you may even develop those six packs abs everyone longs for!
2. Improved Health:
Our classes will dramatically improve your cardiovascular health. Your resting heart rate will come down and your ability to maintain an increased heart rate will increase. You'll breathe better, sleep better and even feel an increase in energy and effectiveness all day long.
3. Positive Attitude:
Our programs are designed to be positive and inspirational. We'll keep you motivated and thinking about progress and goals. You can expect to go home from class with renewed vigor and enthusiasm.
4. Self-Confidence:
It's true, adults who take Tae Kwon Do develop better self-confidence. You'll be encouraged to take chances, to push your self further than you ever thought possible. The success you experience through our program teaches you that you can be successful at anything you truly believe you can. Improved confidence leads to better performance at work, a better circle of friends, better performance in sports and in extracurricular activities in general.. You're improved self-confidence will help you deal with all of life's challenges with a more positive, "Yes, I Can!" attitude.
5. Self-Defense:
Tae Kwon Do teaches two forms of self-defense. One is physical; you will improve your strength, flexibility and overall health. Additionally, you will learn to strike with tremendous power and effectiveness. Hopefully, you'll never need to fight. but should the occasion arise, shouldn't everyone know how to protect themselves? The second form of self defense Tae Kwon Do teaches is internal. Our students learn to spot danger and avoid dangerous people, places and activities. Tae Kwon Do can help you avoid the need for a physical confrontation. This second form of self-defense is perhaps the more valuable of the two.